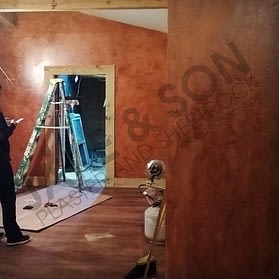 Texture matching is truly an art. No one can beat the knowledge and skill of master craftsman, Lloyd (Jake) Bourgoyne. It is a title earned; not learned in a book or on the web. It is a skill passed down through generations. If you have a hard-to-match ceiling or wall texture, you're in the right place. If we can't match it exact, we're going to get it very close.
Plaster or Drywall – Ceiling & Wall
Textures

Performed:
Popcorn
Swirls
Sand finishes
Smooth (up to level 5)
Orange Peel
Stomp / Crows Foot / Starburst
Most rolled finished
Hand finishes
Any texure can be removed or refinishe
Popcorn Removal Experts!
Let's face it. Popcorn should never leave the microwave! Unfortunately, ceiling popcorn is still widely used because it's quick, cheap, and covers many flaws. We try to persuade customers to stay away from popcorn. Not only does it collect dirt and look dated, but it's a major downside if / when you ever decide to sell your home. That's how many people dislike the look of it.
Contact us to find out how we can help increase the value in your home! It's not as bad (or messy) as you think!